It doesn't matter whether your business is big or small, if you're not generating quality leads, your business is doomed to fail
High-quality leads are the lifeblood of any thriving business.
It doesn't matter whether your business is big or small, if you're not generating quality leads, your business is doomed to fail – after all, how are you going to keep growing and evolving if there's no new business coming in?
Unfortunately, getting quality leads is one of the areas that marketers find most challenging.
In fact, 59% of marketers say generating quality leads is their primary challenge, according to research conducted by the B2B Technology Marketing Community on LinkedIn.
But generating quality leads doesn't need to be a complicated process.

All you need to do is work on your marketing ninja moves and have a few tools in your arsenal that will help you identify leads that come with a strong potential to convert.
In this blog post, discover six clever tactics to help you generate and convert more qualified leads.
1. Use smart lead generation tools
Marketing automation has been a tremendous leap forward for many businesses. Now that AI-powered tools have made their way into the market, the lead generation process has become more targeted and streamlined.
Imagine a visitor is searching for a solution on your website and would like to find useful information that will help them make a purchase decision.
What if AI could identify the best piece of content to show them, based on the pages they have visited on your site? Or maybe guide them on a personalized journey of discovery until they're ready to convert? That would make the buyer's journey so much easier, right?
For example, one of the tools that successfully employs AI for lead generation, CliClap, predicts and applies the next best action for each visitor, providing a personalized and seamless experience to all visitors to your website. By providing the prospect with the precise piece of content needed to move forward in the sales funnel, CliClap helps marketers convert visitors to qualified lead anonymously while reducing manual work.

Another great lead generation tool you can use is LeadFormly.
As successful marketers will tell you, your form is what separates your leads from non-leads. LeadFormly is a tool that helps marketers build high-converting lead capture forms. It comes with built-in analytics to help you better understand your leads and how your forms are performing. This way, it helps to eliminate the guesswork in the lead generation process.
These are just some of the ways that AI can help you boost your lead generation – there are a plethora of tools being released all the time, striving to help businesses generate better results in less time.
2. Start a podcast
Podcasting has come a long way to become one of the most reliable lead generation strategies by many marketers.
According to a 2017 Nielsen survey, 50% of all US homes are podcast fans. The same report also indicates that 49% of podcast listening is done at home, 11% at work, 4% when working out, and another 4% when riding.
What do these statistics tell us?
Your customers and potential leads are probably on the podcasting bus. So if you're not podcasting, you're losing a lot to the competition.
Because podcasts can be recorded and played over and over again, they serve as a constant source of new leads. Also, keep in mind that listeners will have to subscribe to your series first before gaining access to your podcasts, so you only get quality leads: leads that are looking for the solutions you can provide with your products and services.
"Access
This Quick Win is for any B2B or B2C business owner or marketer who wants to grow their business and generate more leads using a cost-effective technique.
Access the How to use blogging for lead generation
3. Create lead magnets
Another great way to generate quality leads is to create lead magnets.
A lead magnet is a free item or service that marketers offer to visitors and potential buyers in exchange for their contact information, such as email address. Lead magnets can be anything from e-books to videos to coupons, etc.
If you want to be successful in capturing quality leads, then you'll need to build an email list. To effectively build an email list, you'll need a lead magnet. The secret is to come up with a lead magnet that will:
Demonstrate your unique selling proposition: When your audience gains access to your lead magnet, they should be convinced why they should buy from you and not from the competitors.
Be perceived as highly valuable: It should add value to your readers beyond what the competition is offering. Don't go for videos—they are very common. Instead, offer something like an e-book or coupons.
Provide a solution to a problem: Your audiences are always on the lookout for solutions online. If your lead magnet can meet their needs, you'll be building an email list in no time.
The good thing about creating lead magnets is that every contact on your email list becomes a potential lead. Simply put, subscribing to your email list means the lead is willing and ready to convert.
4. Run contests
You see them all the time on social media.
And admit it, you do take those contests and sometimes even participate in polls. You, like everyone else, want to test your brain power or have your opinion count somewhere.
But if you're going to use a contest, be sure to use one that is related to your niche. Because those who will participate are more likely to be warmer leads.
One great thing about running contests is that you get people to give up their information. That's because, in order to register for the contest, every participant will need to give their name and email address. And because everyone loves freebies, you could get a lot of subscribers, especially if the prizes are highly valuable.
Another great thing about contests? They get you results, fast – whether it's more leads, more traffic or more engagement. Oh, and they're super easy to set up – you just need a tool like EasyPromos, create your contests, and publish them on your social media, website and other channels.
5. Answer questions on Quora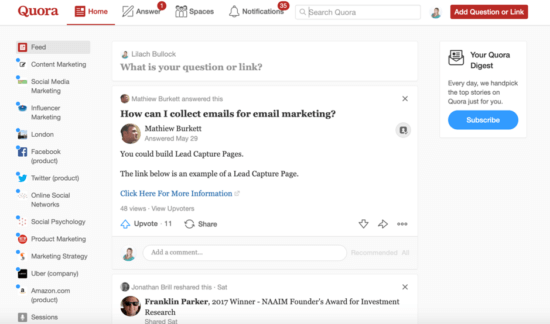 Writing valuable content on your website is a great way to enhance your brand visibility.
But making that content appear on the first pages of search results can be akin to a jigsaw puzzle, especially if your website is new and you don't have much authority in your niche. It's may not be surprising to get not more than 100-page views per month.
However, there is a way you can expand your content outreach and raise brand awareness without spending a dime. And that's by answering questions on Quora in order to drive traffic and generate quality leads. This question-and-answer website reaches more than 100 million people monthly.
All you need to do is watch out for questions related to your area of specialty, and answer them to the best of your ability. Once you focus on being helpful, you become visible and people will see you as an expert in your field and a trusted service provider.
In the end, the law of reciprocity will come into play and people will begin to reach out to you for solutions. This way, Quora opens up lines of communication, providing a more resourceful way for you to engage with potential leads.
6. Leverage social media
You didn't think I was going to leave out social media, right?
With over 2.7 billion active users, social media has become the most powerful form of marketing. If done right, social marketing can bring massive traffic to your site.
But how do you generate and convert more qualified leads with social media?
The trick is to use the right tools and channels. If you're in B2B, LinkedIn can be a great platform for generating B2B leads. For instance, a commodity lead management platform managed to generate over $2 million in pipeline value with their LinkedIn lead generation strategy.
Twitter, on the other hand, has made it easy for businesses to generate qualified leads, using Twitter Lead Generation Cards.
Conclusion
Lead generation may seem like a challenging task, but it's essential if you want to drive revenue. If you can implement these lead generation tactics, you'll never again have to worry about high bounce rates and low-quality leads.
via Smart Insights | https://ift.tt/36LqQCJ